Lifelong Learning & Communities Talk | Introduction to Research in the National Library of Ireland
Audience
Lifelong Learning & Communities
Audience
Lifelong Learning & Communities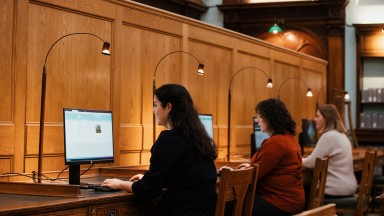 Introduction Text
Join us for this online session which introduces the National Library of Ireland as a source for research.
The talk will introduce your group to the NLI's varied collections and online sources from newspapers, political cartoons, letters, diaries, photographs, and maps which bring to life Irish social, cultural, political, and economic history over the last millennium.
Whether you plan to do research in one of our reading rooms or remotely from anywhere around the world, this talk will show you all the basics of doing research in the NLI. You'll learn how to search the NLI's catalogue, how to get a reader's ticket, and how to order material. 
The online talk is approximately 45 minutes in length, with time for a Q&A afterwards, but this can be adjusted to accommodate your group's requirements.
Ahead of booking your online 'Introduction to Research' talk, here is a short video demonstrating how to search the Library catalogue for digitised material: