Online Tour | Yeats & Theatre
Many people are familiar with WB Yeats as one of greatest poets of the 20th century but may not know that he wrote 26 plays in his lifetime, and was a founder of the Abbey Theatre, now the National Theatre of Ireland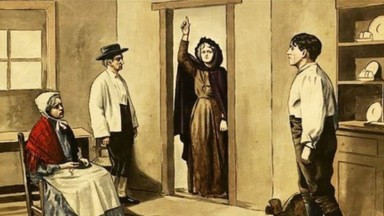 Join us for a themed exhibition tour focusing on the story of WB Yeats as a playwright and a theatre maker.
Join us on Zoom for a guided tour of the National Library of Ireland's award-winning exhibition, Yeats: The Life and Works of William Butler Yeats, taking place on the anniversary of the 1907 Playboy Riots at the Abbey Theatre. The tour will examine the artist's life and works with a focus on his involvement in theatre. The tour will introduce you to the story of Yeats as a playwright and theatre maker through the treasures of the Yeats collection on display.
This exhibition was made possible by the generous donations of Yeats-related artefacts to the library, and the Yeats Collection is the largest collection of books, manuscripts, and personal items relating to the poet anywhere in the world.