Online Tour | Yeats: The Life and Works of William Butler Yeats
An online tour celebrating Poetry Day Ireland 2023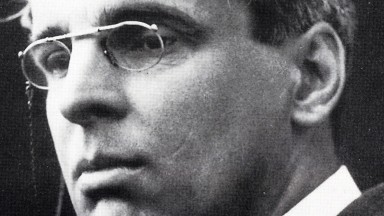 Join us for an immersive online exhibition tour of Yeats: The Life & Works of WB Yeats.
Take a closer look at one of Ireland's most celebrated poets and cultural icons during this online tour of the NLI's award-winning exhibition, Yeats: The Life and Works of William Butler Yeats.
This tour will introduce you to the story of Yeats's fascinating life and works through the treasures of the Yeats Collection on display, and will discuss the important themes of the poet's life, including Ireland, literature, folklore, theatre, politics, mysticism, and the occult. This tour is a chance to listen to stories of Yeats's life and works and ask questions of the National Library of Ireland's expert guides.
This exhibition was made possible by the generous donations of artefacts to the NLI, and the Yeats Collection is the largest collection of books, manuscripts, and personal items relating to the poet anywhere in the world.